Friday Beer Review - Dogfish Head Raison D'Etre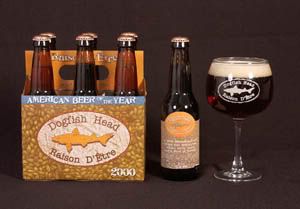 I'm a big fan of the regular column. Here's a stab at getting one started: The Friday Beer Review (lame name subject to change). It will chronicle my ongoing quest to taste test every beer at HEB. If you've tried a beer I review or have a suggestion for one to try, comments are appreciated. Oh yeah, also, I had this typed up on Friday, I just didn't get a chance to publish until today. So it's legit. Here goes...
I had read good things about Dogfish Head, but quite frankly, never expected to find it in Texas. Thus, you can imagine my surprise when I found not one, but two offerings at the local heeb:
Raison D'Etre
and the
90 Minute Imperial IPA
. I chose the Raison because the 90 Min was almost 9 bucks for a four pack. Tight-wad.
The box says it's the American Beer of the Year for 2000, so I'll take it's word for it. The label on the bottle is simple, with nothing more than a picture of the logo and a description of the beer itself: "A deep mahogany ale brewed with Belgian beet sugars, green raisans, and a sense of purpose." Cheers to that... I love purpose. However, the thought of beet sugar and green raisin was not really initially appealing.
It poured a dark brown with hints of red (mahogany?) with a large but quickly dissipating head. The aroma was malty-raisiny blend. Pleasant. Flavor is very unique, I could definitely taste the raisin, which gave it a pleasant sweetness. Also tastes of banana, plum, spices, maybe roasted almond? Very little carbonation. The texture is difficult to pinpoint. It was smooth and soft as a baby's ass, but heavy. Almost felt like a Smoothie King going down. The word I would use to describe the aftertaste is clean. Like the beer entered your mouth, mopped up your tongue and teeth, and didn't leave a shred of evidence.
That said, I loved it. It was really fun to drink. Each time I raised the glass to my lips a little bit of pee came out from excitement. The flavor is just so damn good and intriguing, you can't help but want more. And more I had. But future drinkers, beware: at 8% alcohol by volume, a six pack is a fair match. And you can't even taste the alochol. It wasn't until I awoke today with that very distinct morning after feeling that I realized, "Wow, I was a small bit drunk last night." I would recommend drinking this as a "transition beverage" when switching between straight booze and beer. I bet that would work well.
So, Final Review, on the homemade Vince scale....
Appearance: 7/10
Taste: 9/10
Enjoyability: 9/10
Overall: 9/10